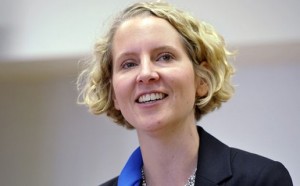 Emma Reynolds MP is tomorrow celebrating the role that small businesses play in Wolverhampton as part of the UK's first ever 'Small Business Saturday'.Small Business Saturday is a grass-roots campaign that encourages people to shop locally and support small businesses in their local communities. It is set to be the biggest celebration of small businesses in the UK. The initiative is supported by all major political parties, after first being suggested by the Labour Party.
Emma said, "I think Small Business Saturday is a great initiative, and I am pleased that other parties have supported Labour's idea to celebrate the vital role that small businesses play across the country.
"I would encourage everyone to take part in the campaign on a key shopping day in the run-up to Christmas. Supporting Small Business Saturday gives a lift to the small businesses in Wolverhampton that do so much to support our local economy and create jobs.
"I will be in the centre of Wolverhampton on Saturday morning to support a number of our small businesses including Access to Business, in the Mander Centre, which helps people looking to become self employed."
- REF: http://www.emmareynolds.org.uk/emma-reynolds-mp-supports-small-business-saturday-on-7-december#sthash.L3ilaeHI.dpuf
Do you like this post?